PERCY JACKSON (1897-1984)
THE DOXFORD YEARS 1947-1965
Percy Jackson is know by repute to a world wide circle of oil engine specialists, for his writings and contributions to numerous technical societies with a very large aggregate membership are appreciated wherever oil engine matters are considered and discussed. As an oil engine designer, Percy Jackson is one of the most resourceful England has produced. His experience was varied as well as long. It ranged from small high-speed engines for vehicular and stationary purposes to giant direct-drive marine engines of very high power. Four-stroke and two-stroke he had likewise taken in his professional stride. Whatever the problem or challenge, this adaptable Yorkshire man tackled; hit was usually with success, although like all engineers who have made their mark, he had his difficulties and troubles.
Primarily a stationary engine man, PJ made a big change by taking on the technical leadership at the Doxford's works at a time when that famous British engine-building firm was in need of new designing blood and bold technical leadership. For almost twenty years since joining the firm PJ provided both, and even after retirement in 1965 he continued to assist his firm in a consultative capacity.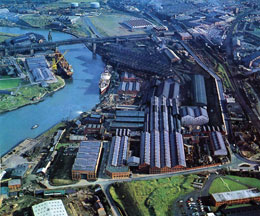 Doxford Works 1960.
The first forty years of the twentieth century of the progress of the Doxford marine heavy-oil engine could broadly be called the KELLER era. It was a period of success, consolidation and expansion. K.O.Keller, father of the Doxford engine, was followed by his right-hand man, W.H.Purdie a fine marine engineer and engineering director but not a designer in the creative sense, though it must be acknowledged that the Doxford works and licensees were very busy producing engines during this period and Purdie was fully occupied. Keller and Jackson were supreme examples of the creative engineer. A shrewd Scot, Mr. Purdie attracted Percy Jackson into the Doxford team in 1947 which was not a moment too soon: appreciably higher engine powers were certain to be required in the near future, turbo-charging of the of the big two-stroke was just ahead and further development of the hitherto very successful Doxford engine would have to be undertaken if it was to hold its position and keep the firm and its numerous licensees well occupied with Doxford engine orders.
Turbo-charging and important changes to the Doxford engine's fuel injection arrangements were early problems tackled by Mr. Jackson . Other engineer's designers thought that his work in the latter respect was particularly courageous. From the beginning the Doxford common rail system of airless-injection had been most satisfactory and notably efficient. PJ set about retaining the high fuel economy of the original arrangement while achieving great expenditure of time or money and without departing drastically from the Doxford customers knew and liked in practice---an important consideration in the marine world!
The next and much bigger, step was an entirely new range of Doxford engines---the 'P' class. The new engine eliminated some of the design elaboration of the original type, saved length and weight, and ---particularly important and desirable---was given a stiffer crankshaft.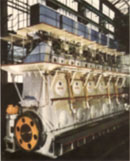 'P' 6 on testbed trials 1962.Mr Jackson was thus able to offer Doxford engines of appreciably higher power than hitherto been possible, although six cylinders were still regarded as the upper limit. The design was a success and a considerable number of 'P' -type Doxfords have been built.
Useful though this development was, the increase on engine power had continued apace and the Doxford engine was again felling the keen wind of competition. In fact, it could not compete for the big single-screw diesel engine business. Once again the design resources of Percy Jackson were to be demonstrated, and the result was the quickly designed and rapidly developed a 'J' -type Doxford engine. By adopting disc-type crank webs and using them as main bearings---an inspired move and was proved in prolonged testing--- the Doxford engine has acquired a further compactness and a fundamental ability to cope with very much higher powers than hitherto. The general design was clever and simple, and the final result in a high-powered cylinder marine engine that was keenly competitive. Doxford considered it to be the lightest engine of its type available, and cost per bhp is, of course related to specific weight.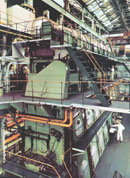 'J' 9 on testbed trials 1964.The first engine of this 'J' type was a 9 cylinder---20,000 bhp and was installed in the MV NORTH SANDS a tanker of some 64,450tons. At the time this engine was on test Doxfords had obtained more than a dozen orders for engines of this new design---most of them of 13,000 bhp. This confidence in a new untried design is unprecedented in marine engineering, and reflects the high repute in which the name of Doxford is so widely held.
No finer endorsement of the value of his work in the oil engine sphere could be given to PERCY JACKSON than to have two engines named after him, the 'P' and 'J'
Surely a great man who was never recognised outside of his own field but who duly deserved to have been.
To view the life and times of Percy Jackson please click here.